How to find Object Type for Navigation (Drill down)?
Sometimes there are several business objects with the same description or object cannot be found easily.
In such case the following method can be used:
Run standard transaction of required business object.




S

elect My Objects -> Add to My Objects in GOS (Generic Object Service) menu.




Run transaction SE16 execute query on DB table SMYOTREE with USER_NAME=<current_user>.




Sort results by TIMESTAMP descendingly and copy the value of OBJTYPE.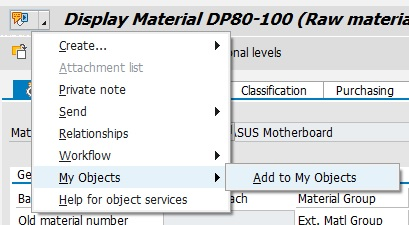 Related Articles

How Do I Define Navigation (Drill Down) To Material Document?

You should first create a new formula column that concatenates Material Document and Doc Year. Afterwards, set navigation to business object BUS2017 and map this column.

Runtime Error CONNE_IMPORT_WRONG_COMP_LENG In Method CL_SALV_BS_RUNTIME_INFO=>GET_DATA

Symptom While executing the report, you run into runtime error CONNE_IMPORT_WRONG_COMP_LENG (Exception CX_SY_IMPORT_MISMATCH_ERROR) in Method CL_SALV_BS_RUNTIME_INFO=>GET_DATA. Reason One of the fields in the ALV data table is defined with of ABAP ...

How Can I Restrict Setting of Default ALV Layout In Rainbow?

Requirement You want to restrict some users from setting a default ALV layout in Rainbow reports. Solution SAP offers standard authorization objects to control whether a user is allowed to set default ALV layouts. 1. Authorization object S_ALV_LAYO ...

Dump (Runtime Error) in Publisher

In case a dump (runtime error) occurs during execution of Publisher, the problem may lie in the original report. Please execute the original report in background and review the spool (in transaction SM37). Verify that ALV list is available on the ...

Dump (Runtime Error)

In case of dump (runtime error), please attach the complete dump to the ticket (as described in the OSS note 1896868 – How to save a short dump in text format: When a user receives a short dump at runtime mode, pay attention to the fact that the dump ...